Provider Engagement
A Provider Portal Your Clients Will Thank You For
Provider engagement that strengthens your client relationships and helps your providers deliver better care.
A Community Record for a Patient's Most Important Data
A Community Record for a Patient's Most Important Data
The Luminate Health provider engagement application enables your lab's clients to access a patient's community record, including a full history of their lab results, across all of a patient's providers. With patients' easy-to-view result history in one place, your client providers and their staff can better coordinate care, including with other members of a patient's care team.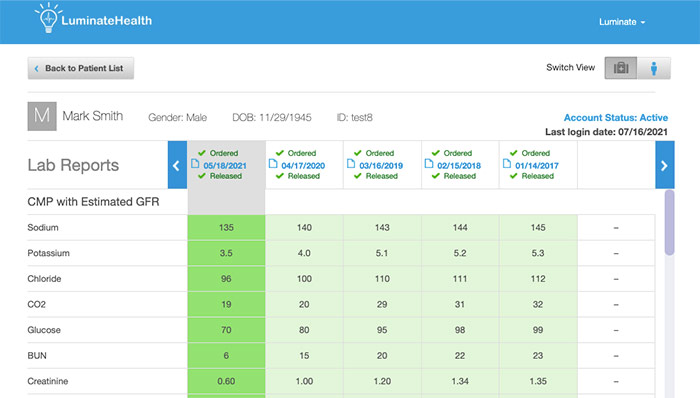 Active Communication for Your Busy Clients
Your lab's clients are busy serving their patients. We put the information your clients need at their fingertips when they need it, with customizable notifications to providers when new lab results are available to view, critical value notifications to support your lab's customer service team, and the ability for providers to inform patients about notes related to their lab results.
Education at the Point of Care
Providers and their staff can review lab results together with their patients at the point of care, and actively educate and engage their patients to help improve their health and outcomes.
We prioritize interoperability so your providers receive real-time access to results on any device from across your patient's care team, eliminating the need for your providers to call and request faxes for this critical data, and reducing costly administrative burden.
Support a Value-Based Care Model
Equip your providers with the tools they need to drive improved quality and outcomes for their patients. The Luminate Health provider application provides:
Accurate, Timely Access to Clinical Data
Analytics With Scorecards That Deliver Clinical and Business Intelligence
Risk Stratification Across Your Client's Patient Base, and More