Patient Engagement
Much More Than a Patient Portal
We go beyond results and drive engagement that empowers your patients to become active participants in their own health.
Health Categories, Disease-Specific Views, and Summaries
Health Categories, Disease-Specific Views, and Summaries
Traditional lab reports and patient portals offer little meaning to most patients. The proprietary Luminate Health patient engagement application organizes lab data into relevant health categories, disease and condition-specific views, and health summaries so that lab results make sense for your patients.
Educational Content Alongside Every Result
Educational Content Alongside Every Result
Patient health literacy is low, but with our platform your patients get educational context with their lab results. We go further than a typical laboratory patient portal by delivering proprietary, medically accredited Get Smart educational content right into the application.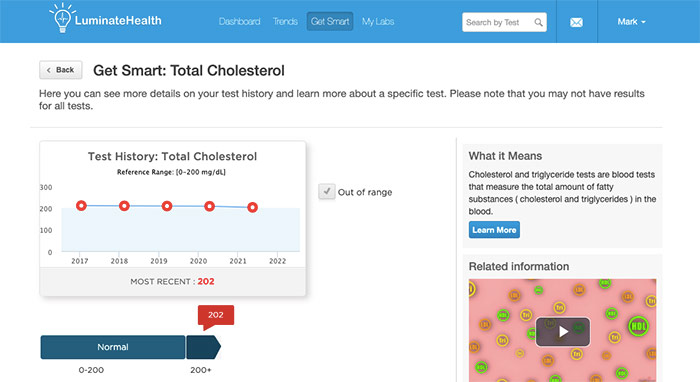 Longitudinal, Trendable Lab Results
We structure your lab data to produce longitudinal patient records, so that your patients can see their health trends with graphs, charts, and notifications over the course of their entire relationship with your lab.
Actively Engage With Your Patients
Build a relationship with your patients so that they turn to you for their lab testing needs. With Luminate Health, your lab can conduct wellness programs and omni-channel communication with your patients to let them know when their lab results are ready, help them learn about testing they might need, and help them better understand their health.
We work behind the scenes to improve your lab's services.  Whether it is our patient matching algorithms that we've run across hundreds of millions of lab records, our ability to structure, harmonize, and cleanse your data, or our suite of additional IT services, with Luminate Health, you can unlock the value of your lab data for the people that matter most, your patients.
Patient Matching Algorithms
Data Structuring and
Data Harmonization
Suite of Additional
IT Services